Enjoy your getaway weekend, and come home
an expert in survival Cantonese!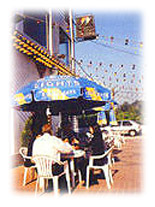 Training Result
As a graduate of a HKLTC mini-weekend immersion, you can count on being able to make travel arrangements, initiate conversations, inquire about and order meals, perform graceful introductions, and carry out other basic activities competently in your new language.
Methodology
The relaxed, three-day courses use the proven-effective HKLTC Method, a teaching style that employs natural conversation and reinforcement to make learning enjoyable. The language immersion makes the perfect starting point for a trip, for brushing up your skills, or for jump-starting a longer learning program on your way to Asian adventure. Whether you join a course individually or as part of a group, this mini-immersion offers the perfect way to meet new people and share the fun of learning new language skills.
Schedule
Friday evening:
meet your teacher in Macao/Shenzhen and begin your immersion experience over Chinese food and drinks.
Saturday:
continue learning through conversation and role-play and enjoy a full cultural presentation on Chinese dining etiquette. The evening culminates in a special dinner at a Chinese restaurant, where you'll practice your new manners and order a meal in your new language.
Sunday morning:
over breakfast, more conversation and socializing, followed by a thorough review of all the material after saying "Zao an" (morning in Mandarin) or "Tso shen" (morning in Cantonese) in the morning.
Further Learning
If you want to extend your linguistic and cultural education, the weekend immersions are timed so that students can transition seamlessly into monthly group language courses for more in-depth study.