Business English for Consultative Sales Skills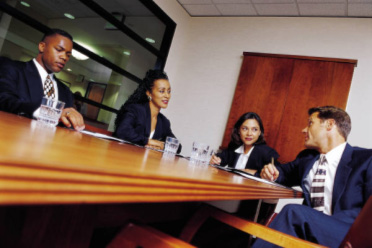 These two-day workshops will provide participants with the language skill and knowledge to become valued-added sales consultants to their customers and prospects.
Introduction
This intensive, hands-on, exercise-driven workshop teaches skills that boost sales and profitability through an increased understanding and implementation of the needs-satisfaction sales process. The medium of instruction can be Chinese, English, or bilingual. Participants learn how to focus on each client's particular situation, needs, vision, and the front line/CRM staff/sales that makes all of these possible, as well as on other opportunities to

increase business. This workshop enables participants to determine how their company and product/service can provide meaningful value to a client, even in a competitive or saturated market. The classroom exercises, through industry-specific role-plays, guarantee that every attendee's performance will transfer from the classroom to the real-world, client-driven environment.
The instructor will take each participant through the step-by-step sales techniques critical to approaching customers with business solutions and to expanding partnership capabilities. A key component of this workshop is video-taped role-plays, which provide the participants the

opportunity to observe their own individual negotiations. This process provides direct individual feedback, assuring that each classroom participant implements direct and immediate behavioral changes in his or her sales approach.
Workshop Modules
The workshop is broken down into several interactive modules. The modules are comprised of group discussions and case studies. A brief description of each follows.
The Power of Pre-Call Planning.

Knowing what you're getting into before you get into it is a valuable strategy. We will discuss the payoffs of efficient pre-call planning. Additionally, we will explore the critical skills participants need to know before they ever get face-to-face with a client.

How Much Value Do You Bring to Your Customer?

What must you do to ensure your customer feels that you "bring something to the party" and are not just an added expense item? We will explore five tips and three strategies to enhance the value participants bring to the sales relationship.

Are You a Great Business Developer?

Business development, or the ability to bring new business into your organization, is one of the most critical skills for today's top sales professionals. Participants will be taken through an introspective group discussion on how they rank as business development specialists.

Why Selling on Price Isn't Really Selling!

In selling, you want to help your customers base their buying decisions on value, not on price. We will explore the keys to how to properly position yourself, your company, and your product to create value in the eyes of your customers. Our focus will be on building value so that price appears insignificant by comparison.

How Do Your Customers Make Decisions?

In this module we will discuss ways to help the participants understand the customer's decision-making process.

Principles of Account Maximization.

We will explore the six principles of maximizing participants' face-to-face time with their customers.

Positioning Yourself to Be a Valuable Resource.

We will discuss how to position yourself based on the four outcome factors of increased profits, increased productivity, reduced cost, and increased competitive advantage.

Negotiation Tactics.

In virtually any negotiation setting, both sides share some similar interest. The challenge is finding out what those interests are! We will explore six effective strategies for determining the other side's interest and negotiating more effectively.

Time Management Checklist.

In this module we will discuss methods to organize your time and maximize your daily productivity.

Selling in Tough Times.

As the economy continues to wallow in mediocrity, it is increasingly evident that there needs to be a resource for professional salespeople to refer to as they strive to make sales in the face of difficult circumstances. This module will serve as that resource.
Training Results

Participants in the "Consultative Sales Skills" workshop will learn to:
Take advantage of the importance of a value approach in building a successful customer partnership

Demonstrate the face-to-face Relationship Selling process

Sell long-term relationships rather than price

Incorporate interviewing skills into the sales process in lieu of pitching products

Apply sales techniques appropriate to each buyer and behavior type

Understand how to differentiate product/service and company in a competitive selling environment

Employ the top ten closing techniques and know when and how to use them

Determine opportunities to add value to a client's business

Offer creative solutions and options for mutual gain

Use post-sales measurement to share data with sales management

Comprehend when and why buyers buy, to be able to increase sales

Private Group Training: Group (6+) English communication skills plus sales training can be tailored to the needs of the client organization and delivered on site at the time and location of
the client's choosing.
Public Open-Enrollment Seminars: Individuals are invited to participate in monthly workshops held in our center in an open-enrollment format.
For more information and pricing, please contact Dr. Jason Cross at jasoncross@language.com.hk or telephone 852.2834.2168.
For further information on our training services or to discuss your training needs, please contact Jason Cross:
Tel: (852) 2834 2168 | Fax: (852) 2834 2183 or by email on learn@language.com.hk